Sunday, April 15, 2007
Team: Singapore Surf Anglerz & One Member From Team Yaman Fishing
Cast: Azzahar, Salleh, Yan, Josh & Uncle Zainuddin
Date: 14 April 2007
Tide: 2.5m - 1.1m
Spot: CP6 Surfcast Area
Target: Big Game & Small Game
It was at 7.30pm when i have just reached home from Johore Bahru with younger brother fixing his motorcycle. I was rushing through everything by preparing all my fishing gears, bath and eat my dinner with a short time slot as the rest of the cast from Singapore Surf Anglerz were already at the spot.
My uncle (Zainuddin) called me up and asked whether i am going fishing tonight. Later i asked him to buy some squid from the nearest supermarket and be prepared as i will be reaching in 20 minutes time.
Once i had fetched him, went over to Changi Village to get some fishing supplies such as light sticks and batteries for the head light. It was around 9pm when we met the rest of the cast.
As i arrived, the rest of the cast told me that Yan had brought up a nice sized Kaci (Sweetlips). I took out my weighing scale and it weighs approximately 1.2kg flat.
While Josh felt bad as the baby snapper from an emperor's family he caught died as he tried to remove the hook as the hook was deep gutted, I used it as my first big game bait of the night hoping to get a stingray.
Uncle Zainuddin and i then set up our gears and casted our baits waiting for some catches.
I went netcasting and caught some Pasir-pasir (Sandeel), a small cuttlefish and palm sized green-eyed squid to be used as big game baits. As the night was a bit boring with no moon to view, Josh asked me to teach him some basic technic of netcasting.
As Josh had enough of his netcasting lesson, he borrowed my tent for a rest. It was around one plus in the morning, when he went into complete body resting, his rod bend and line was peeling off from his reel. Wake him up and he made a good wee morning sprinting and fight with the strong fish which swim to the left. Once brought up, it was an angry fat 2kg Duri (Marine Catfish) hitting its body on the sand. As i was helping out to hold the swivel-snap part, suddenly i felt a sharp prick to left index finger and it was oozing with some blood.
When i inspect the snap, i was shocked to see that the snap part had came off and bend, I told Josh that he would have lost this fish if he had pump in the rod strongly.
As tide was going down, we decide to end our 10hrs fishing.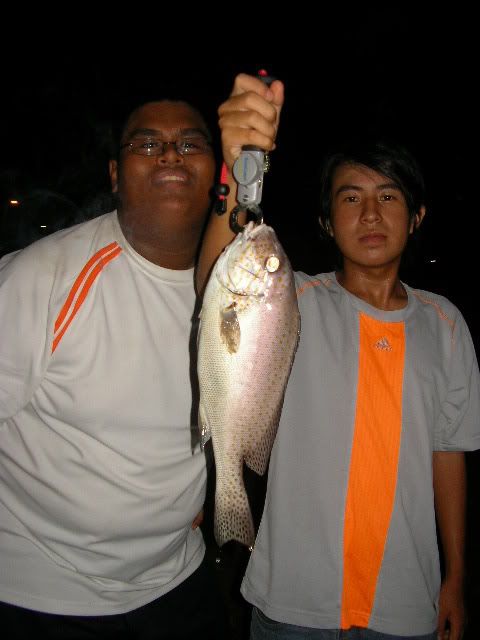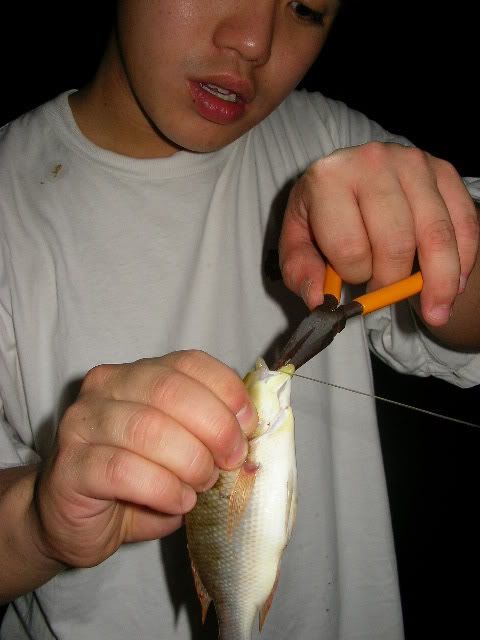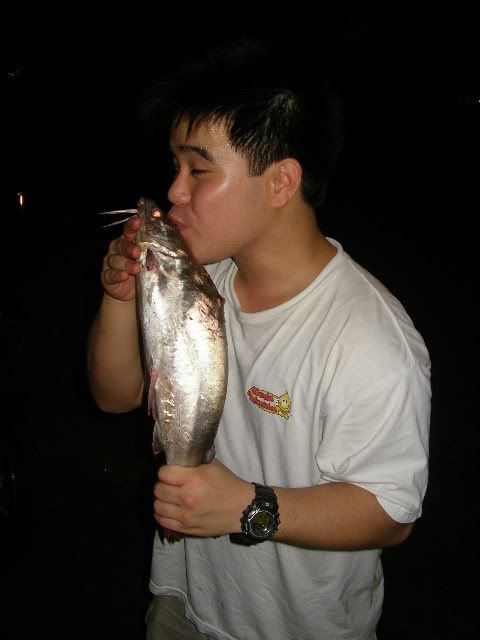 Gone Fishing...
5:14 PM