Sunday, March 30, 2008
Team: S.S.A.T.M.C
Cast: Azzahar, Shedinja & Uncle Kamsani and family
Date: 22 March 2008
Tide: 2.9m
Spot: Changi
Target: Big Game & Small Game
The teams meet up at Changi CP7 while the rest of the members from Singapore Surf Anglerz were at Changi CP4. Baits were plenty from Tamban, Pasir-pasir, fresh squids and cuttlefish, wat-wat, sarong worms to halfbeaks.
As I apologised as I could not remember much of the full story, let's just view the pictures. Flathead which weighs 1kg taken on whole pasir-pasir bait, Marine Catfish aka Duri which weighs 2.4kg taken on fresh cut squid and Spotted Sickle Fish weighing 2.9kg taken on wat-wat cocktailed with sarong worms.
Enjoy the pictures.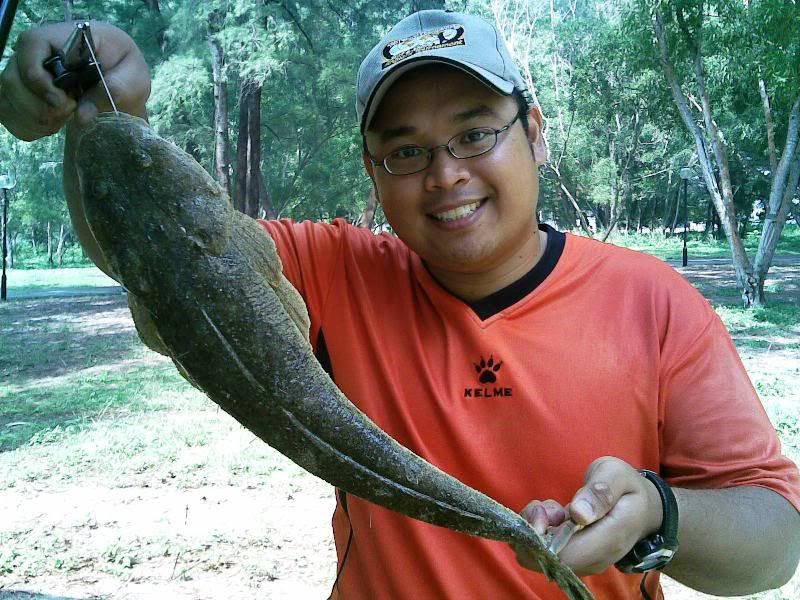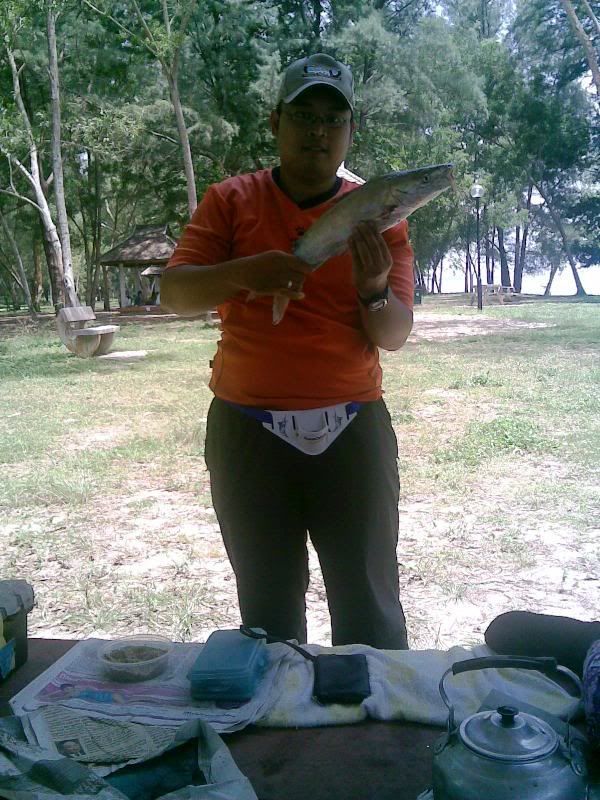 Team: Singapore Surf Anglerz & Fanatics Malung Boyz
Cast: Yan, Sazali
Date: 21 March 2008
Tide: 2.6m
Spot: Changi
Target: Big Game & Small Game
A report extracted from Fanatics Malung Boyz.
Ok let me start off on a trip wit the SSA bros last friday which was Good Friday. Well basically fishing trip with the Singapore Surf Anglers, SSA, on the 21st Mar almost got into a successful one when Bro Yan (kecik) got hooked on a stingray which he fought at approximately 30-40mins. And the story goes....
Met Jali and the gang at 5pm at Changi Village. Heard wat wat (wormy kind of bait) was in store so we got at least 8 packs for the night for us. I brought two weapons fo the night. Lotsa smallies were haul by my dad's rod, Shimano holiday spin, like usat(belongs to a catfish family) and mempinang. We had some bbqed stuffs fo the night tht were brought by my newly made friends thr. A few hours later, while everyone were changing baits, and i was reeling in my line, i heard someones drag being pulled, pulled non stop! Bro Yan saw and reach out for the rod quickly before anything happens. It wasn't his rod actually but its one of his friends. The owner of the rod were busy with some stuffs. He then gave the fish a hard jerk, it still swam away, further. It then begin to caught everyone's attention. The rod almost give way but Bro Yan played with its drag professionally.
After a long long fight, the fish was finally on sight. Were we relieved to see what fish and how big it was. I was happy at first. It roughly weighs around 15-20kgs. No one had gaff to bring this monster up, so i was appointed to jump over the railing to drag the fish to the 'much better area' for bringing this sandray up. Lotsa hiccups were seen like the line went into the rocks, so i hadda meddle with things down thr with Jaliboy's a.k.a Sean Kingston rod, as how to bring up as the tail could give you a nice whip to send you to the hospital and so on. The ray were still on when we're at the above mentioned area, so i tried whole means lik trying to hold and grab its tail, poking in thru its eyes, nothing could possible been done. So poking through its eyes, halfway, is the best choice at tht point of time. I still could remember how shaky i was when trying to lift tht monster up.
The moment of truth, the ray got off. Not by snap of line, but i think its the hook part, didn't went in properly. This all happened after the rod tht i was holding on to tht poked into its eyes slipped. Then it swam away. Its life is still longer. Up till now, I can't forget that very incident.
Gone Fishing...
12:38 PM
Team: Singapore Surf Anglerz
Cast: Azzahar & Yan
Date: 03 March 2008
Tide: 0.8m
Spot: Changi CP7
Target: Big Game & Small Game
It was a boring day when Azzahar called Yan whether he's interested to go relax fishing.
A timing to meet and fetched Yan up from his house was secured and off we went to CV to buy all necessary stuff such as baits, drinks, crackers and etc. Once we got all the stuffs, we decide to go to CP7 as the sky already looked dark and the clouds are threatening to drops it heavy rain.
Once reached, we set up our stuff and started to cast out the baits. It was less than an hour later just before heavy rain suddenly drops with gushes of strong wind started out. Yan managed to land in a sizeable tuskfish.
Looking that the rain would not stop in time, we decide to pack up and return home.
Enjoy the photos.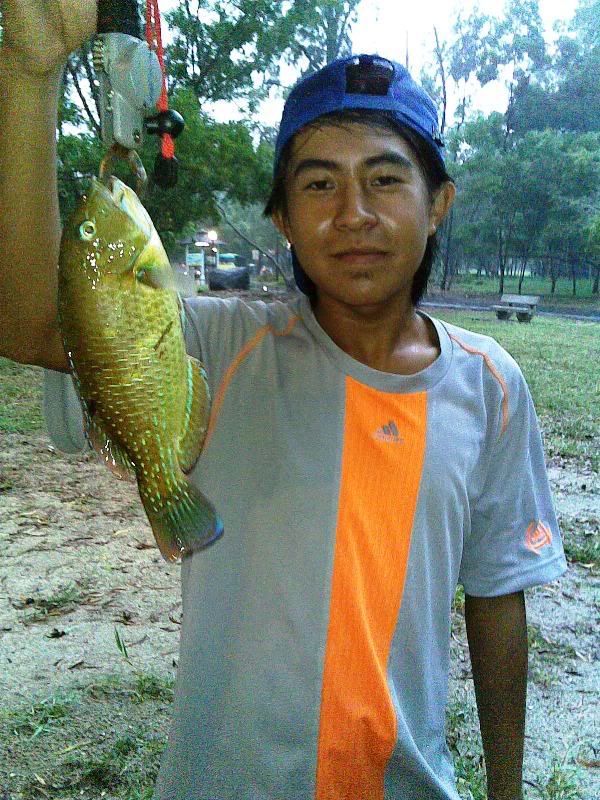 Gone Fishing...
12:27 PM
Sunday, March 02, 2008
Team: Singapore Surf Anglerz & Eastcorez Surfanglerz
Cast: Azzahar & Man Kerapu
Date: 01 March 2008
Tide: 2.3m
Spot: Changi CP6
Target: Big Game
This is a special outing on behalf of the Singapore Surf Anglerz members and its logo mascot.
It was Friday, 29 March 2008, that I got my money back from Man Kerapu and on that very evening, called one of the fishing kaki from Fishing Kaki forums who have been keeping the combo set for nearly one month as mutual promised between both of us, I bought his Penn INXS 2 Long Range 13ft 6 inches rod combo with Daiwa Sealine-X 30 SHA reel.
That night, Man Kerapu called me if I have bought the rod and asked if I'm going fishing on Saturday.
Met Man Kerapu at around 3pm and off we went to spot. Bait was really hard to get as Man Kerapu spent nearly six hours in the water searching for bait. Netcasting results was three miserable tamban malam (Night herring) and one small baby pasir² (smelt) for baits.
It was about 2330hrs when I asked Man Kerapu if he need the last bait as we were already out of baits, he gave the green light for me to use it. With one last hopes of getting baits or CR for this outing. Prayed hard and threaded the tamban malam nicely with thin 15lbs line, did one full swing and waited for actions.
While chatting with Man Kerapu and Shedinja, who came down for a while to chit chat, we didn't notice that my rod has a hook up as no any drag alarm was peeled out. We were about to check for baits when Shedinja told me my line was extremely slack.
Hmmm, I was wondering that with the tide rising up, I don't think that the line will be drifted by any floating rubbish. Took out the rod from the rod stand and fit the rod butt onto my gimbal, reeled some slack line and gave one firm strike. Felt something heavy at the end of the line with good vibrations and fight.
Once reeled in to shore, Wohhoooo, a different catch by me in my entire life on top of special catch for the Singapore Surf Anglerz team logo mascot which was the Barracuda.
My 30lbs Dupont hook line was nearly cut off by its razor sharp teeth as the hook was embedded deep in its mouth. Once pictures taking ended, weigh in the fish and found out that it weight 1kg flat as shown on my weighing scale device.
Since we are out baits, we thought of using the testing the barracuda as bait and aim for another biggies. Man Kerapu later sliced it nicely and hooked the sliced thick firm meat onto the hook and off we start again with plenty of fresh cut baits.
The end results of this outing, no biggies were landed on this outing using the fresh barracuda meat but at least we returned home happy as my new bought big game setup did managed to hooked up a nice size fish.
Enjoy the photos.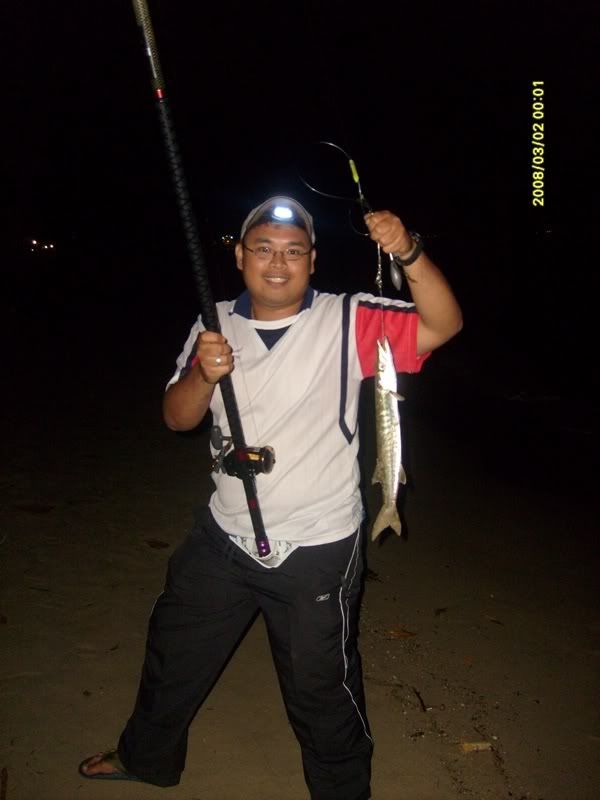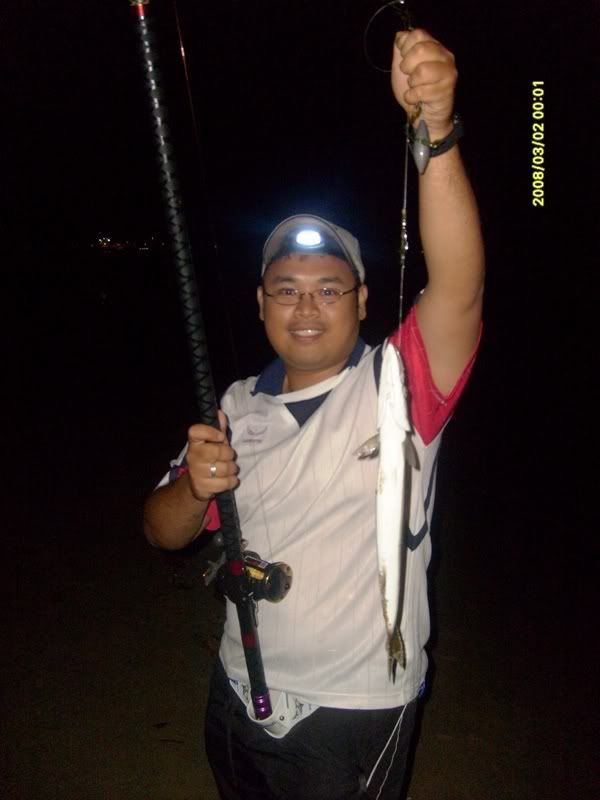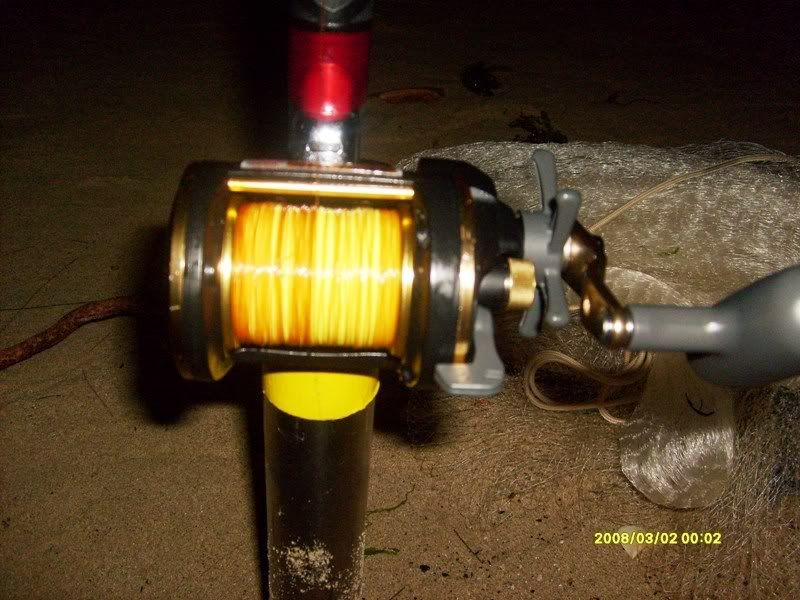 Gone Fishing...
12:15 PM