Monday, February 25, 2008
Team: S.S.A.T.M.C
Cast: Azzahar & Fidzah, Shedinja, Fiore, Memphisbelle & family, Sulaiman, Is, Mike & wife & Samsi.
Date: 24 February 2008
Tide: 3.0m
Spot: Eastern Singapore
Target: Small Game & Big Game
Hi all, you must been thinking far when u read the team has become S.S.A.T.M.C right?
Actually Singapore Surf Anglerz has combined with The Memphisbelle Crews in regards to defend our Singapore Champions title in the WCSSA 2008 as most of the Singapore Surf Anglerz members are due to enlist into the National Service pretty soon.
Most of the 2007 batch will be enlisted starting with Yan on 11 March 2008 followed by Sazali in April and the list goes on.
As myself the team captain for the S.S.A.T.M.C for the WCSSA 2008, have briefed the whole team members who represents the team about the rules and regulations of the tournament which we have to abide and adhere.
And now, we have started to fish. Those fishes caught up by the maximum of 2 hook as required in the tournament rules will be kept in a separate ice boxes whilst those on cast nets will be kept in different boxes so that it won't get mixed up.
We started out on Friday but it was raining and was not a good time to fish. Catches was very bad so we decided to return on Saturday evening and fish till Sunday.
Baits was abundant such as wat-wat, sarong, while live prawn, live swa chiam and tambans were netcasted by Uncle Samsi.
The spot was not bad when we were lucky to hook up Bawal Emas when it took our live prawns which took the bait near to the rocky areas. Fight was not bad for the fish of its size. I was busy recording in the weight of the catches when Uncle Samsi came to us with another 600g and 700g Bawal Emas in his cast net while looking out for baits. I was like, fwahhh, cast net also can get bawal emas but too bad cannot record as it won't be counted.
Hehe, just like as usual, Fork-tailed Catfish or should I say, Blukang, two of its were caught and release unharmed as we don't consumed it.
But the main account for the team catches was Uncle Kamsani when he landed a 14kg sandray just before we stopped fishing. Seems it was like a good starting out in the tournament together as a team.
Enjoy the pictures and videos.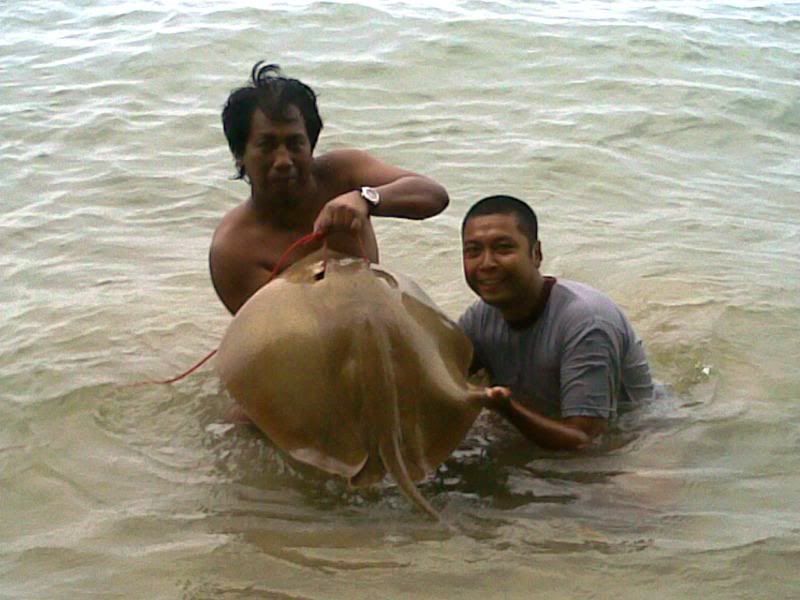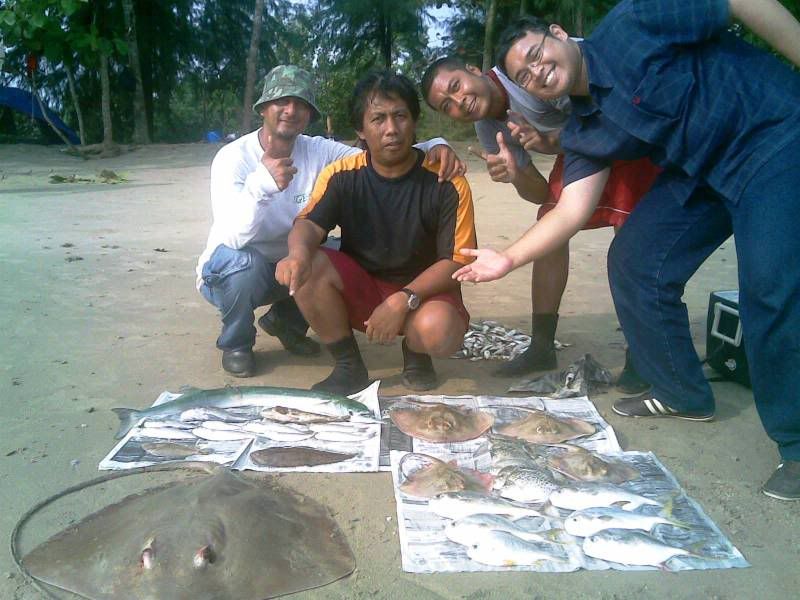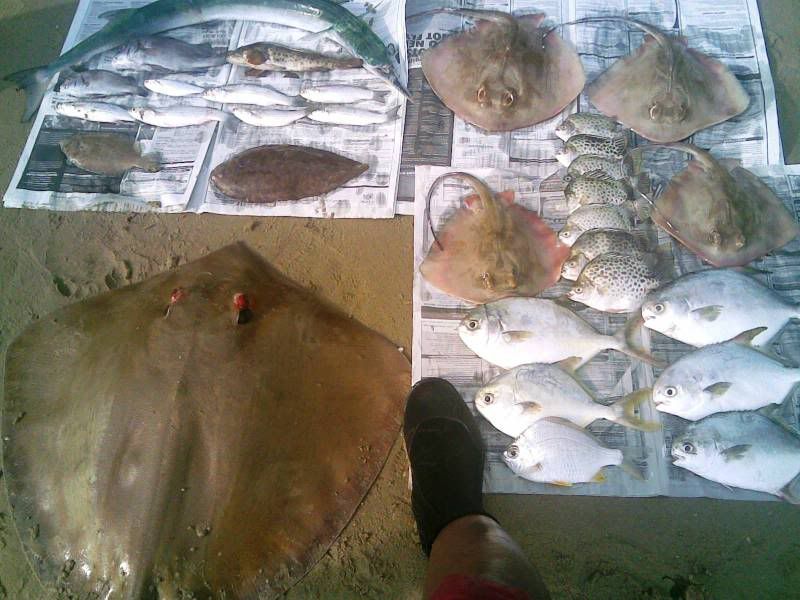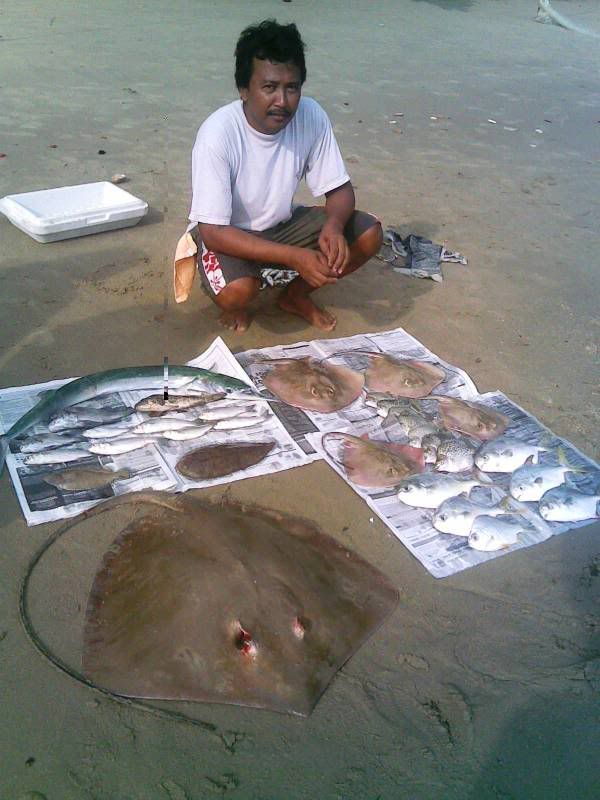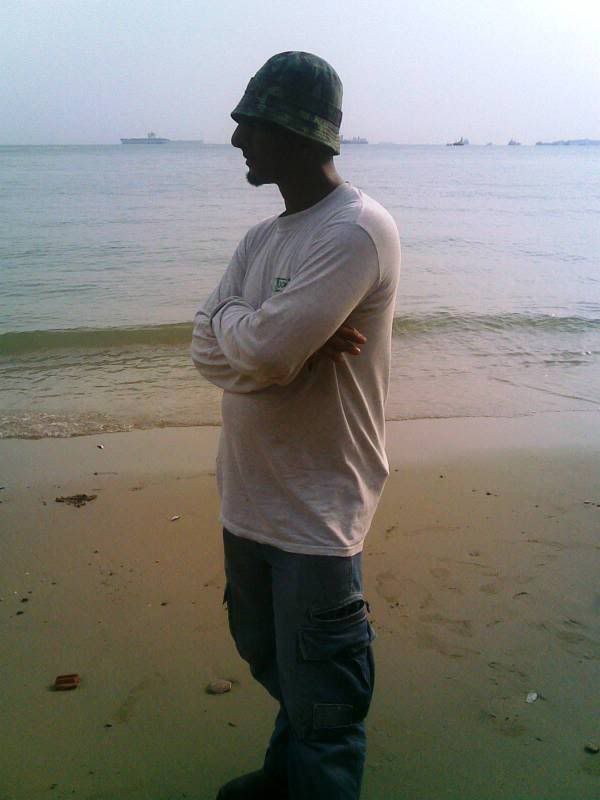 Gone Fishing...
11:35 PM
Team: Singapore Surf Anglerz
Cast: Azzahar, Yan, Jali & Shedinja
Date: 24 February 2008
Tide: 3.0m
Spot: Changi Beach
Target: Small Game
A four hours fun fishing in Changi. Sazali's rod was pulled by biggies in a one one-way ticket. Lot's of Siput sedut & mussels were collected by us. Yum-yum ... Enjoy the pictures.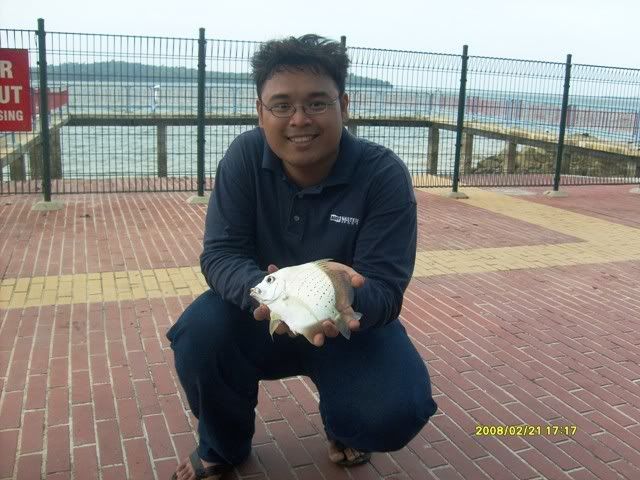 Gone Fishing...
9:56 PM
Monday, February 18, 2008
Team: Singapore Surf Anglerz & Team Memphisbelle Crews
Cast: Azzahar, Shedinja, Wan, Yan TMC, Mike, Cik Sulaiman, Cik Samsi & Wife
Date: 16 February 2008
Tide: 2.4m
Spot: Somewhere at 2 different spots
Target: Small Game & Big Game
We have started to defend our title at the World Championship Surf & Shore Fishing with new team members as the past year batch mostly will be enlisted to the National Service soon.
I was at home thinking of watching the English Premier League FA Cup between Manchester United versus Arsenal (Yeah! Manchester United walloped Arsenal 4 - 0) when Shedinja called me around 9pm to join him fishing at first reccee spot with the rest of the members.
Went to Changi Village to get some supplies such as drinks, light sticks and sinkers and off to spot. Once reach, setup my rod and casted out my baits. Bait was lasting and from 11pm till around 3am, with me only who managed to brought up a 1.2kg Gemang (Gray-eel Catfish) and another good size missed while reeling up due to its rocky areas. Cik Sulaiman missed two size when both of the fish swam into the rocks opening.
It was early in the morning when most of us were knocked off, Yan & Wan returned home. Once woken up, continued to fish until at around 10 am before we decides to change spot to target Gemang.
Reach spot B at around 11am and fish till 2pm, a total five more gemang was brought up and one Belukang (Forked-tail Catfish) was released back to the sea.
Enjoy the pictures.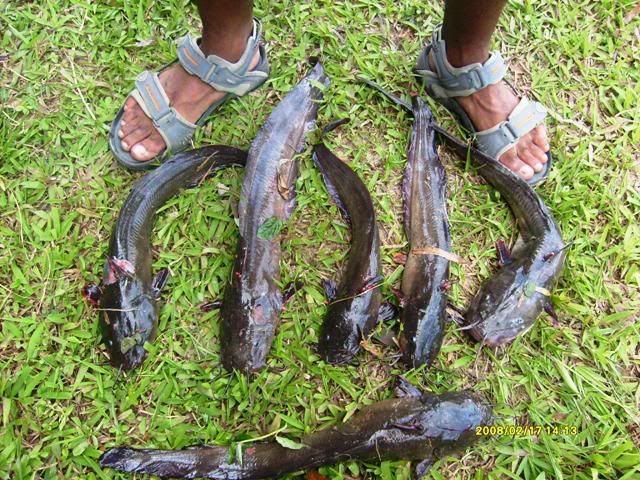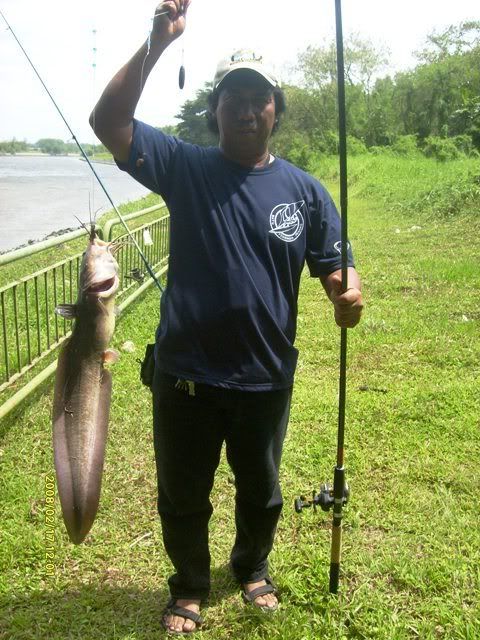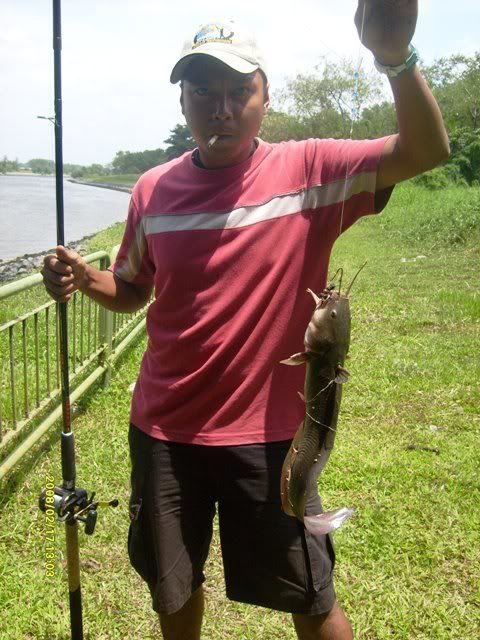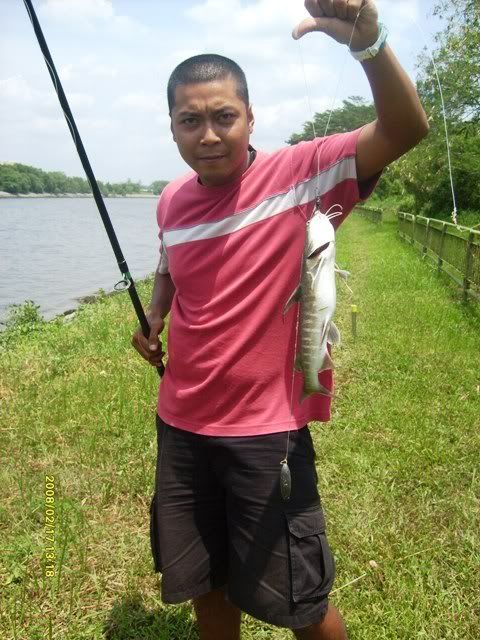 Gone Fishing...
9:52 PM
Thursday, February 07, 2008
Team: Singapore Surf Anglerz
Cast: Azzahar, Yan, Sazali, Raimi, Saleh & New Friend; Wan
Date: 06 February 2008
Tide: 2.7m
Spot: Changi CP6
Target: Duri (Marine Catfish)
Been quite some time since most of the members meet up and fish together. The rest of the guys were sending text messages to each other about fishing at CP6 to target Duri. Since Azzahar has recovered at 80% after his knee operation, he was back in action with the rest of the guys.
Rest of the guys came early except for Azzahar who came at around 8pm as he had some other plans in the afternoon. Upon reaching, Saleh was preparing himself to return home.
After Saleh returned home with his two duri belalang (Smaller sizes of Marine Catfish), fishing frenzy started and it was all Duri night which now hold the highest total haul record of Duri in a single night for Singapore Surf Anglerz. The total catch for the outing was 37 Duri (inclusive of Saleh's two Duri), 1 Mempinang, 2 Duri & 1 Mengkerong released back to the sea unharmed. During the frenzy, it was about one cast one hit rate.
Smaller sizes duri and other fishes were released as to ensure it grows bigger as part of the promised made by Singapore Surf Anglerz, Azzahar landed in the heaviest Duri for the night at 2.2kg and the only good palm sized scaled fish; Mempinang (Russell snapper) while he released a Mengkerong. Raimi, blazing out with his new multiplier reel and rod, he was on form just like the rest of the teams landing in good size duri and releasing smaller duri. Yan too did not forget his promised to release smaller size fish as to ensure it grows. Not to forget Sazali also contribute lots of his energy assisting the team members.
We would like to thank our new friend, Wan, for coming over to us and offered us some food to keep the team filled with energy to last the whole cold windy night.
Enjoy the pictures.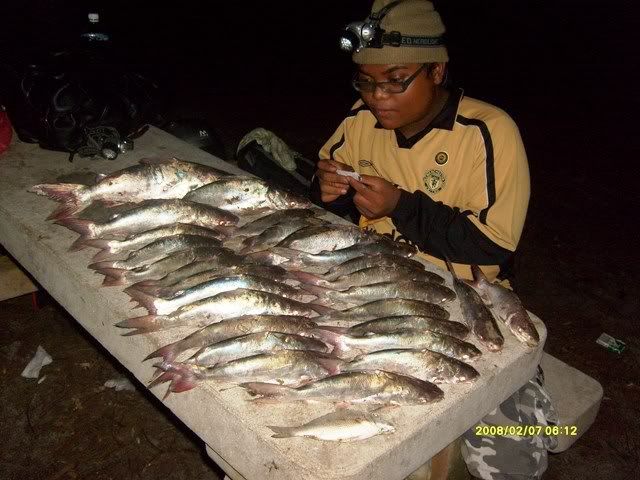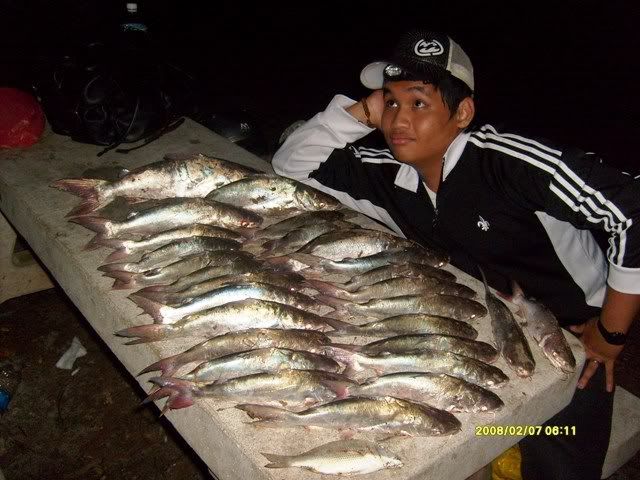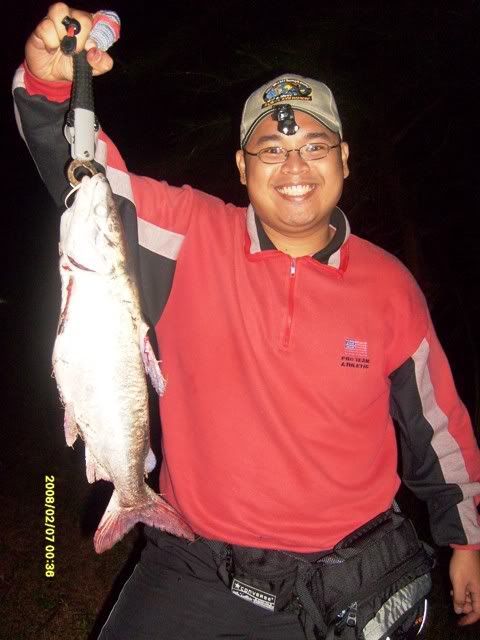 Gone Fishing...
7:24 AM