Wednesday, August 15, 2007
Team: Singapore Surf Anglerz & Eastcorez Surfanglerz
Cast: Azzahar & Man Cisco
Date: 14 August 2007
Tide: 1.4m
Spot: Changi CP7
Target: Small Game & Big Game
Called Man Cisco if he would like to follow me fishing at Changi CP7. After buying baits such as squid and wat-wat, set up my rod started to cast out. Man Cisco was sending in big baits in order to target biggies.
As for me, I was targetting on smaller rays as my team have been reeling in a kilo sized rays since the past outings. Smaller rays have sweet meat compared to the bigger version when barbequed with sambal and lime juice poured over it once it cooked.
I was lucky again to reel in blue spotted stingrays for the straight outings since our last few catch reports.
The saddest part of the story, as i was targetting smaller rays, I was shocked that my Surecatch Prokat and cheap Pioneer Apachi spinning 5000 series loaded with a single apollo sized 4 O'Shaugnessy Mustad Saltwater hook baited with wat-wat was stripped non stop till it is left with 1/4 spool to go. It was at full low tide. I decided to thumb the spool in order to slow down the fish but i guess the fish did not swallowed properly and it managed to escape.
At around 11pm, we decided to call it a day. Took pictures of Man's ATC Surfleader rod which he intend to sell away, and not to forget Man taking a picture with the biggest ray caught today with my rod.
It's ok, it's alright. Today the biggies might have bullied me when i was in small game mode, but the next outing, I will return with a vengeance for the biggies.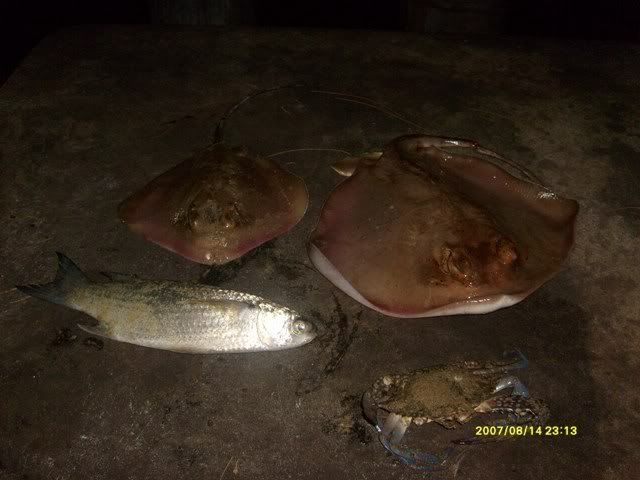 Gone Fishing...
1:09 AM