Sunday, August 26, 2007
Team: Singapore Surf Anglerz & Eastcorez Surfanglerz
Cast: Azzahar, Yan, Sazali, Saleh, Hasan, Fairoz, Josh, Wak Ace, Man Cisco (Man Kerapu)
Date: 25 August 2007
Tide: 2.7m
Spot: Changi CP6
Target: Small Game & Big Game
This outing are only meant for rest and relax fishing while chit chatting or studying with the rest of the members as school exams are just around the corner. In order lessened down the checking of bait timing, most of the members were sending in big bait fish to target biggies such as stingrays and etc.
The members met at the normal spot in the afternoon but once rain came and most of us were hiding under the canvas in order to seek shelter as our normal spot shelter was booked by an indian family having barbeque so we have to moved out to the nearest bench.
Once rain stopped and the indian family has returned, off we unload our things back to the shelter. Some played card games, some were studying for exams, some were chit chatting, some were barbequing some of our baits fish, squids and crabs by using the used barbeque coals which were used by the indian family earlier.
As the night was dull and it was a long night for the members, our main joker, Saleh, as usual will be the ice breaker to bright up the dullness till it's time to return home.
Catch was only good by netcasting for baits. At least, in this outing, we still have something to pose around with. Man Kerapu netcasted and managed to bring up 2 belanak (mullet), puput (halfbeak) and a baji-baji (flathead).
Enjoy the pictures.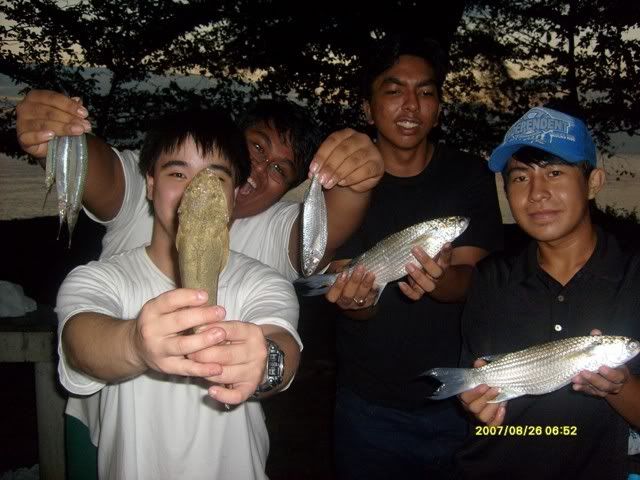 Gone Fishing...
9:19 AM