Monday, May 12, 2008
Team: S.S.A.T.M.C
Cast: Azzahar & GF, Uncle Kamsani, Uncle Sulaiman & Uncle Samsi
Date: 10 May 2008
Tide: 2.4m
Bait: Wat-wat, sotong kelong, market squid and market prawn
Spot: Pulau Ubin
Target: Small Game - Tourney Fish Points
A week before, Uncle Kamsani smsed the rest of the guys to go on a outing to Pulau Ubin on a one day (morning - afternoon) trip to aim for fish points for our tournament.
It was one day before the outing that I called Uncle Kamsani to confirm my attendance for the trip.
It was at 4.25am that Uncle Sulaiman called to wake me up and get ready to meet the rest at Nadeerah Restaurant in Changi Village by 5.30am.
I called my gf to wake her up as she was interested to follow me to Pulau Ubin as this would be her first ever outing to Pulau Ubin. At 4.45am, it was raining cats and dogs which prompted me to call Uncle Kamsani that I might be reaching a bit late depending on the heavy rain situation.
Thank God, the rain stopped at 5.15am and off I fetched my girlfriend at her residence and proceed to Changi Village. Along the way, I met Uncle Samsi who was riding his bike and was also going on a trip with us to dig for wat-wat and sarong worms for his fishing trips tonight.
Once reached Changi Village, sat with the rest of the guys including with Abang Jaws and wife from Team Jaws 9 having their breakfast together. Bought drinks and meals for the whole day outing and off we proceed to take the bumboat to Pulau Ubin.
Reached spot at around 6.45am but we didn't start fishing as water was at it's lowest so we just set-up and put all of our stuff nicely as we could see the black clouds around us but thank God it wasn't raining that whole day.
While setting up our rod, we chatted and later Uncle Kamsani and Uncle Sulaiman went off to search for wat-wat worms. We only started fishing at around 9 plus in the morning when water was rising up.
Open ceremony catch was from Uncle Kamsani who reeled in a Duri Belalang and it was followed by me. It was consider a slow catch with assortable size Duri and duri belalang being caught till Uncle Sulaiman reeled in a grouper at his spot using whole sotong kelong. Later, most of us shot to the area where he casted and we were rewarded with grouper too.
Just before stopping fishing, Uncle Sulaiman caught a 2kg Belukang and released it unharmed as none of us consumes the belukang while Uncle Kamsani reeled in the last duri belalang.
Total catch was 15 but the other fish was not in the photoshoot session.
Enjoy the photos.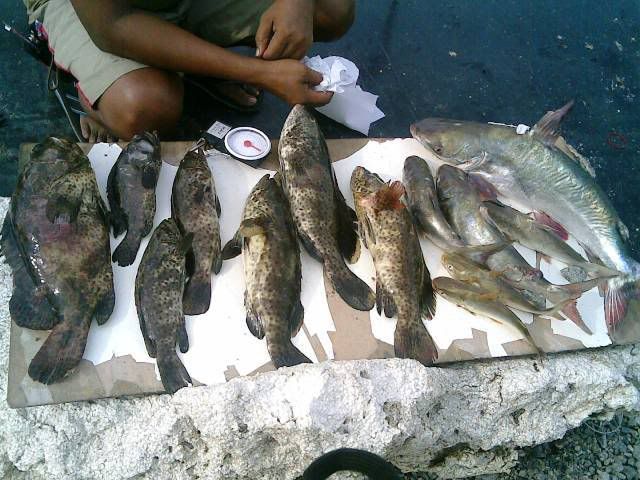 Gone Fishing...
1:12 PM