Sunday, October 04, 2009
Team: Tampines Inglorious Basturds
Cast: Azzahar &amp Man Kerapu
Date: 03 October 2009
Tide: 2.7m
Spot: Gelek Dangdut Crescent Drive
Target: Mixed Game (Target of at least one catfish accomplished)
Another last minutes recall by Man Kerapu when full day schedules of going out for Hari Raya outing with my fiance became a short 3 hours outing when he told me that he will be waiting at my home by three in the afternoon.
Once sending my fiancee back home, I returned home quickly to prepare for mobilisation. This time to Pulau Ubin as I told Man Kerapu that it's been sometime that I last caught a Duri (Marine Catfish), so my mission is to catch at least one duri.
Pulau Ubin spot Aik Hwa was chosen and soon I prepared my tackles. Tackles brought today Penn INXS 2 Long Range + Daiwa Sealine X SHA 30, Penn Powergraph + Daiwa SL30SH, Silstar Ultra Light 12ft + Cheap Surecatch reel, tripod stand donated by Sazali (Thank you as I regretted selling my Ian Gold Match tripod stand last time) and a 10ft cast net to search for fresh bait.
I brought along my tripod stand as I knew that Aik Hwa is a rough rocky ground terrain and it will be difficult to pitch in the normal rod stand.
Suddenly, heavy downpour started before we left my home, but, as we have confirmed and planned to go fishing at the very last minutes, we doesn't want it to be missed.
Went to Changi Village to get bait supplies,food and drinks and et cetera. Called up our usual Pulau Ubin driver that we need him to transport us to Aik Hwa and will be reaching Pulau Ubin in twenty minutes time.
We reach Aik Hwa under heavy downpour and we quickly seek shelter under a tree and set up all necessary preparation.
Soon we started our fishing and netcasting.
Caught plenty of Kapas-kapas but only good eating sizes are kept while smaller ones were released.
The Blue Spotted rays are back and we caught five of them, one good size fish were lost when the leader from the Penn Powergraph rod combo used by Man Kerapu gave way upon nearing to shore suspected to be between 3kg to 5kg range ray.
Tebal Bibir (Brown Sweetlips) estimated to be nearly 2kg was also brought up but credits will go to my ultra light rod as it caught the most good sizeable fish of the outing such as blue spotted ray, kapas-kapas and et cetera.
Enjoy the pictures below.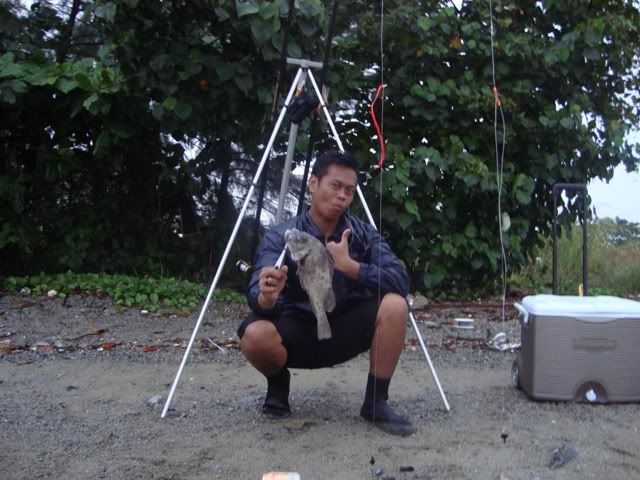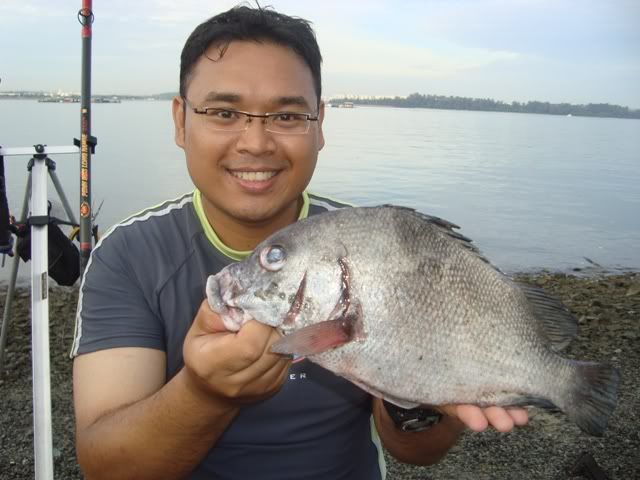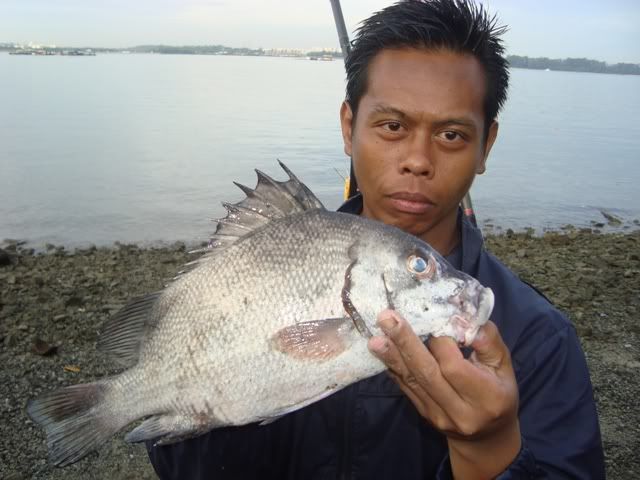 Gone Fishing...
8:27 PM